Offers
First hour free to all new pupils - Yes, that's right. The first hour on your first lesson is offered absolutely free and without any obligation. It's always important to feel comfortable both with the car and the person teaching you to drive, so why not take this opportunity to see how you get on without having to part with a single penny?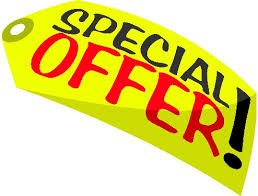 Discounted prices for block bookings. Take a look at the 'Prices' page and you'll see that the more hours you book, the lower the hourly rate becomes. For example, if you book forty hours as a block you'll save £160 when compared with taking the same number of lessons on a pay-as-you-go basis!


I operate a client referral scheme whereby you can 'earn' for every person you recommend who starts taking regular lessons with me. Successful referrals earn you one free hour of tuition whilst you're learning, or a £20 gift voucher if you've already passed your test, so there's no need to ever stop talking about your driving lessons!